Bullfrog Spas Model S150
More Details about the S150
Enjoy an upgraded backyard water experience unlike any other with the all-new Swim Series by Bullfrog Spas®. Build endurance and strength with preset or customizable fitness programs, resistance training, and space for any number of low-impact, water-based workouts. Practice swimming, play games, or splash around on the unique splash pad area. With an ample number of multilevel seats, you'll have plenty of room for everyone to join the fun. Work out, play, or relax away tension, all year round, right from the comfort of your own backyard. No other product in the category offers the numerous therapy options available with the patented JetPak Therapy System™. Swim Series is built with legendary Bullfrog Spas quality and reliability, attractive aesthetics, features designed for an endless variety of uses, and a remarkably functional layout you're certain to love.
Bullfrog Spas Model S150

Specs
Length:
152"
Width:
94"
Primary Specs
Standard Dimensions (W x L x H)
94" x 152" x 52"
Metric Dimensions (W x L x H)
2.38m x 3.86m x 1.32m
Total Seats
13
Water Capacity (to normal fill line)
1190 Gallons (4504 Liters)
*Dry/Maximum Filled Weight (includes Cover)
2000 lbs./11924 lbs. (907kg/5409kg)
Additional Specs
Bench Style Seats
6
Lounge Style Seats
2
Elevated Seats
2
Exercise Seat
1
EnduraFrame Construction/Full-Foam/Molded Base
Standard
Premium Patio Performance Spa Cover
Standard
Spa Cover Lift
Optional
Swim Series Steps
Optional
Exercise Anchors (6)
Standard
Tether Anchors (3)
Standard
Tether Kit
Optional
High-Performance 2-Speed Jet Pumps
2
Dedicated Circulation Pump
Standard
Swim Series Audio
Optional
Exercise Kit
Optional
Simplicity™ Filtration System
Standard
Simplicity™ Flat Filter
Standard
EOS™ 03 Premium Water Care System
Optional
Premium Lighting
Standard
Water Feature
Standard
Swim Series Premium Exterior Lighting
Standard
Swim Series JetPaks
4, Standard
Swim Jets/Propulsion (2)
Standard
Stainless Steel Exercise Rail (24")
Standard
Foot, Wrist, Hip, Leg, Elevated Seat Therapy Jets
16
Maximum Jets Available
182
Operational Sound Measured
64.7 to 65.5 dB (low speed) 73.1 to 75.3 dB (high speed)
Splash Pad (14 jets)
Standard
Hammock Kit
Optional
Stainless Steel Entry Rail (8")
Standard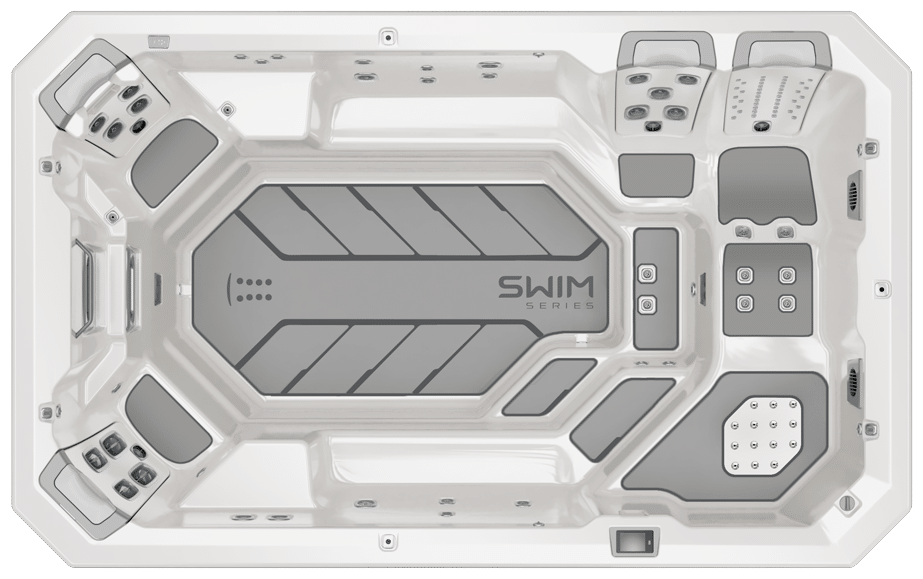 Features
Unique Swim Current System
You don't have to be a world-class swimmer anymore to use a jetted swim current system. The Bullfrog Spas Swim Series features an anatomically-tuned current system that helps you swim easier and better. The unique orientation of swim jets, one near the surface and one angled up from a bit deeper, creates a current shape that helps keep body and legs horizontal and your whole body in your swim lane for easier use and more effective workouts.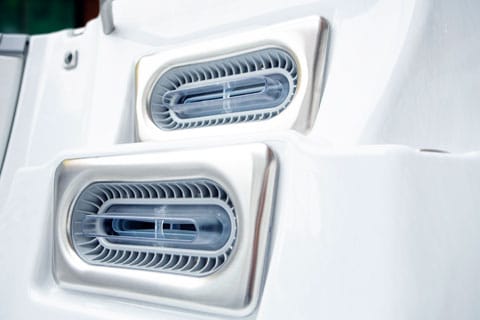 ---
Swim Workouts & Drills
Customize your drills and swim programs to your body type and workout style for optimum results. Use a pre-programmed workout or custom tailor your routine according to your fitness level for maximum benefit, such as better cardiovascular health, weight management, or improved muscle tone.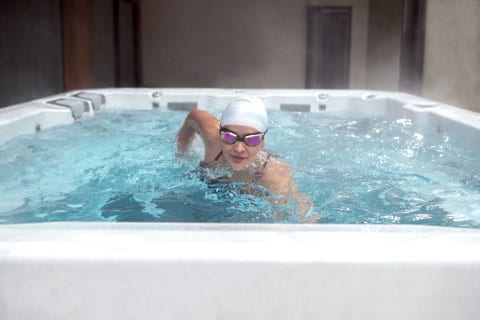 ---
JetPak Therapy System
The only spa in the category with the one-of-a-kind JetPak Therapy System. Select your perfect massages, place them in your favorite seats, and upgrade with a new JetPak at any time to receive therapy that is powerful and energy-efficient. This is your ideal spa experience because it's personalized just for you.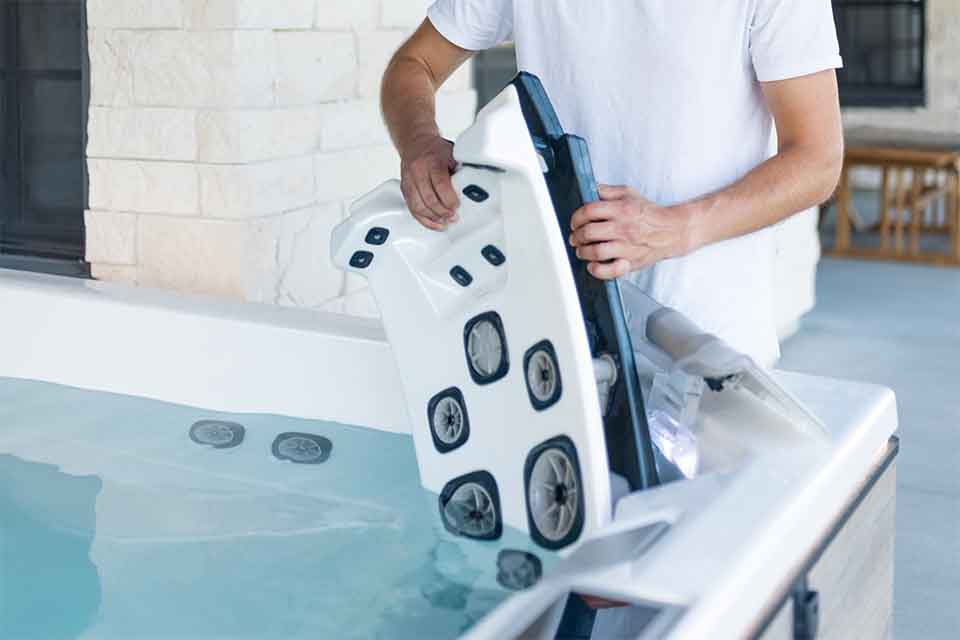 ---
Clear Comfort for Bullfrog Spas
The patented and award-winning Clear Comfort AOP for Bullfrog Spas is a high-tech, eco-friendly, low-chemical spa system you're sure to love. Clear Comfort uses advanced oxidation technology that operates automatically, creating hydroxyl ions. These ions create a strong oxidation effect in spa water, helping spa owners and operators maintain clean, clear, and safe water, free of impurities.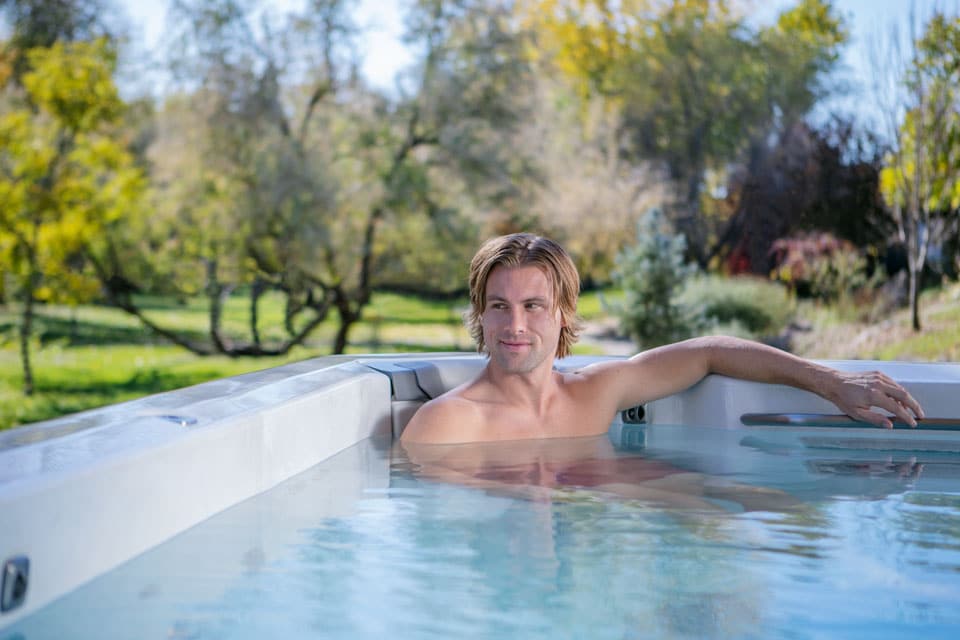 ---
Luxurious Safety
With an assortment of multilevel seats, entry steps built in, and hand rails to aid balance, Swim Series was made with safety for the whole family in mind. Your spa also comes standard with SwimDek® non-slip cushioning installed on the floor and step surfaces offering an extra layer of premium comfort and safety.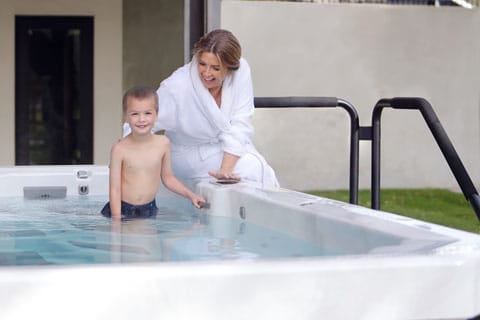 ---
Splash Zone Play Area
Thanks to an ample amount of space, your entire family can spend priceless time together in your Swim Series spa. Practice swimming, play games, or splash around on the unique splash pad area with plenty of room for everyone to join the fun.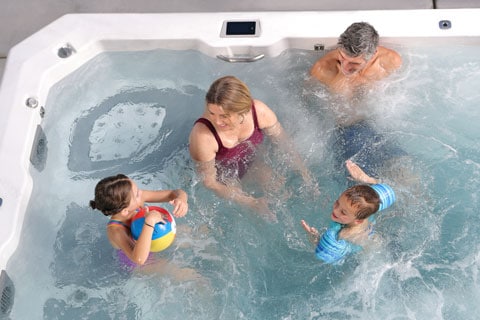 ---
Premium Spa Lighting
Appealing lighted features throughout the spa, inside and out, create a fun, safe, and peaceful experience in the backyard. Additionally, lighted swim current jets provide a visual indicator for easily finding or tracking the swim lane during exercise session.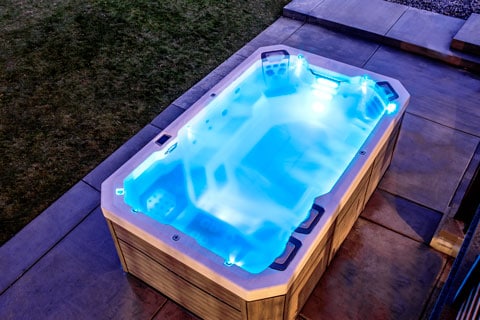 ---
Premium Controls
Swim Series spas come with touch-screen controls, convenient multi-function auxiliary controls, and one-touch swim to spa mode control. Switch from swim to spa mode and back with a single touch, allowing you to go from workout to relaxing in almost no time at all.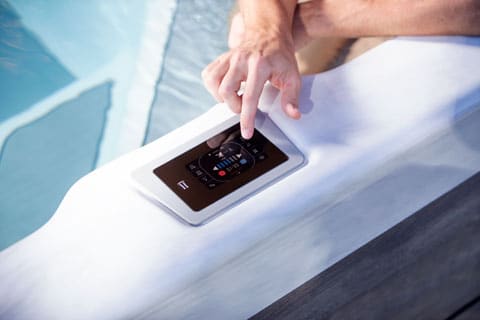 ---
Premium Patio Performance™ Cover
Bullfrog Spas premium Patio Performance covers offer unmatched safety, quality, and durability, all with an upgraded aesthetic appeal that enhances the look of your backyard.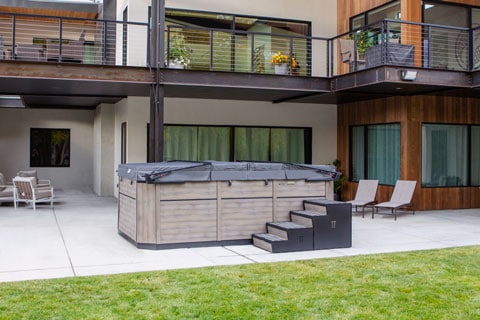 ---
EnduraFrame™ Construction
Bullfrog Spas is the leader in 100% wood-free spa construction technology. The proprietary and patented EnduraFrame™ spa support structure means your Bullfrog Spa is engineered to last. With no wood to rot or warp and a highly engineered structure that fits together perfectly you can be assured that your spa will be dependable and long-lasting.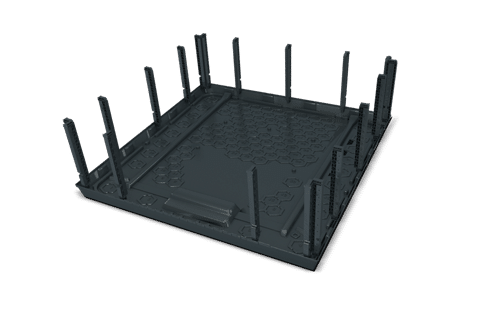 ---
Simplicity™ Filtration System
Your Swim Series spa features the Simplicity Filtration System. Featuring dual intakes for more effective skimming, an in-wall design that saves an incredible amount of space for seating, and an industry-first flat filter. You'll absolutely love the convenience and cost savings that come with this simple approach to spa water filtration.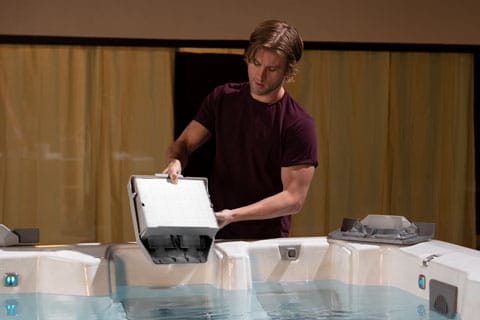 Warranty
EnduraFrameTM Support Structure
Bullfrog warrants the EnduraFrame (injection- molded spa frame) against degradation for the life of the original retail purchaser of the spa.*
Shell Structure
Bullfrog warrants the Bullfrog Spa shell not to leak for ten years from the original spa purchase date.*
Shell Surface
Bullfrog warrants the surface finish of the Bullfrog Spa not to crack, wrinkle, blister, peel or delaminate for seven years from the original spa purchase date.*
Equipment
Electrical and mechanical equipment with its associated piping and fittings warranted against defects in materials and workmanship for five years from purchase date.*
EternaWood™ Cabinet
EternaWood™ Cabinet sections (corners, doors, side panels) & EnduraBase™ are warranted against degredation and cracking for five years from purchase date.*
JetPak Therapy System™
Warranty covers the jets, any leaks from JetPak jet fittings, and all JetPak plumbing. JetPak plumbing System warranted for five years from purchase date.*
Lighting
Bullfrog warrants the Interior and Exterior Spa Lighting System against defects in materials and workmanship for one year from the original spa purchase date.*
Audio System
Bullfrog warrants the Bullfrog Elite Audio and Life Audio Systems against defects in materials and workmanship for one year from the original spa purchase date.*
Ozone System
Bullfrog warrants the ozone system against defects in materials and workmanship for one year from the original spa purchase date.*