Bullfrog Spas Model A7D
A Versatile & Popular Dual-Lounge Hot Tub
The A7D is an exclusive 2-lounge layout with refined features, maximum therapy options and a distinctive style. This layout is so popular it has been one of the top-sellers for nearly a decade. This is a spacious and relaxing 5-6 person hot tub with up to 5 unique JetPaks. The premium bent knee lounger can be outfitted with your favorite JetPak, and includes wrist, hip, calf, and foot jets to create a total relaxation experience. The unique dual lounge seats and assortment of massage types make this spa the ultimate therapy experience.
Relieve the stress of the day by soaking in our popular A8D spa model. With customized JetPaks, 5 in total, and a spacious design, you're going to fall in love. Cozy up with your spouse or invite friends over, this spa can fit up to 5-6 people.
Bullfrog Spas Model A7D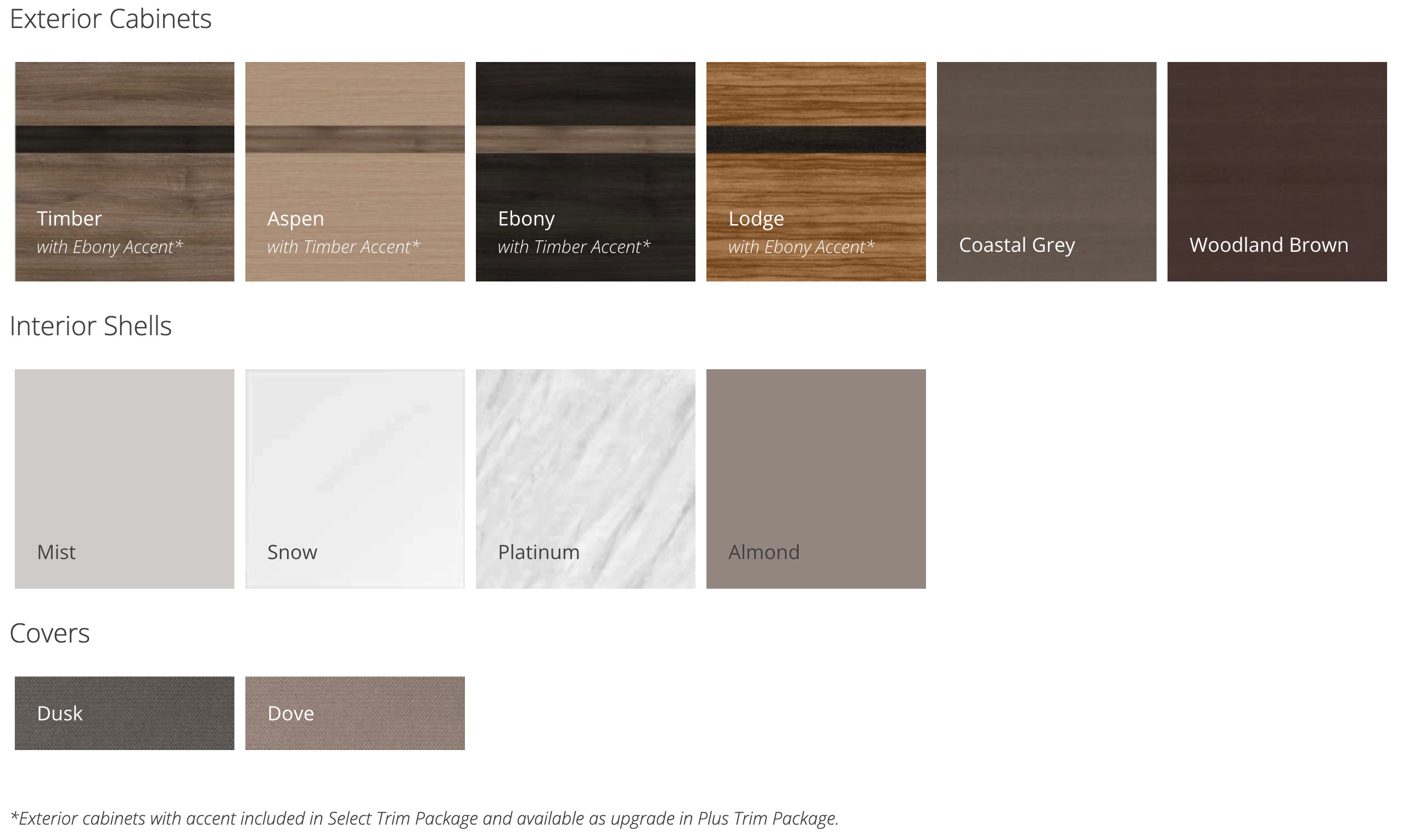 Trim Package Quick Comparison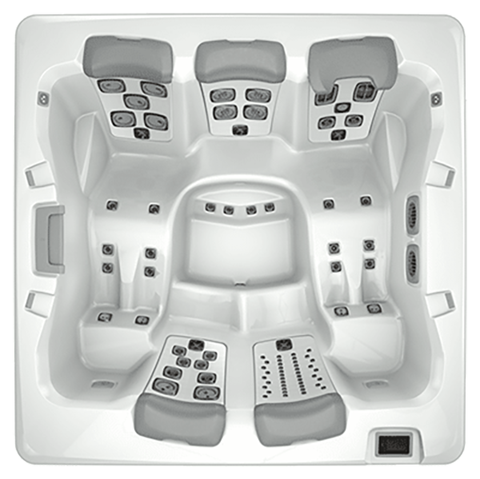 Specs
Length:
88"
Width:
88"
Primary Specs
Standard Dimensions (W x L x H)
88" x 88" x 36"
Metric Dimensions (W x L x H)
224cm x 224cm x 92cm
Seating Capacity
7
Water Capacity (to normal fill line)
376 Gallons (1423 Liters)
*Dry/Maximum Filled Weight (includes Cover)
900 lbs./4967 lbs. (408kg/2253kg)
Additional Specs
Available Seats
7
Premium Bucket Seats
4-5
Lounger Seats
2
Cool Down / Child Seats
1
EnduraFrame Const/Full-Foam/Molded Base
Standard
Premium Rigid Spa Cover (all Colors)
Standard
EternaWood™ Cabinet
Standard
High-Performance Industrial 56-Frame Pumps
Two 2.5HP 2-Speed
Total Pump Brake Horsepower
9.6BHP
Total Pump Continuous-Duty Horsepower
5.0HP
WellSpring™ Quiet Circulation Pump
Optional
Elite Audio: Rich Sound, Bluetooth, Powered Sub-woofer, In-spa speakers, Multiple Device Compatability, Wireless Remote, FM Radio, Optional Yard-facing Speakers
Optional
Life Audio: Bluetooth, Passive Sub-woofer, In-spa Speakers, Spa Control Integration
Optional
Exterior Yard Speakers for Elite Audio Only
Optional
WellSpring™ High Output Premium Ozone
Optional
Interior LED Light Syst.: Center, Filter, Footwell
Standard
Top Rail LED Light Syst. (cup holders & aux)
Standard
Large Lighted Water Feature
In J216 JetPak Standard
Exterior LED Lighting System (set of 4)
Standard
Dual Filter Elements w/safety feature & Microban
Standard
Exterior Drain w/ Footwell Drain Fitting
Standard
JetPaks w/ Detachable ComfortFit Pillows
5
JetPaks AcrylicMatch - Customer Choice
Standard
Rounded Corner Flush Mount Jets
Brushed-Stainless Standard
Automatic Filtration in JetPods
Standard
Foot, Wrist, Hip, Leg Jets
16
Maximum Jets Available
226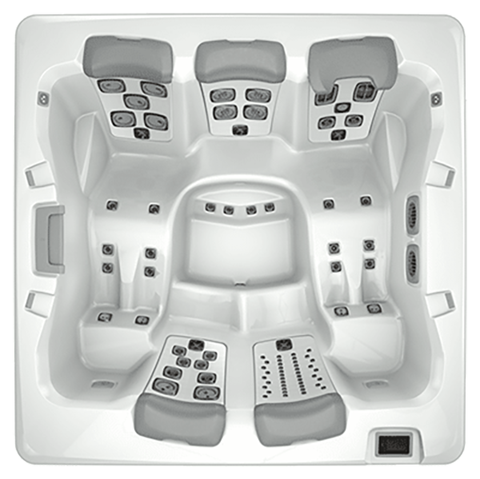 Features
Stunning Design
A Series hot tubs by Bullfrog Spas are designed to be beautiful and comfortable. The sleek design enhances the ambience of your yard and compliments your home and decor. Ergonomic layouts ensure each seat offers you a unique bio-engieered massage sensation. You will be proud to show your Bullfrog Spa as a centerpiece of your backyard landscape design.
---
Integrated Spa Lighting
Your A Series spa features the patented JetPak Therapy System®. This unique and proprietary technology provides you with your choice of up to 16 different massages. A Series spas feature a unique JetPak® of your choice in each premium seat. By selecting your JetPaks and placing them in the spa seats you like, you decide exactly how you want your spa experience to feel.
This ultra-efficient plumbing technology eliminates up to 90% of the piping and joints used in conventional hot tubs while providing better performance and customization options you just can't get in any other spa.
---
Premium Spa Lighting
Your A Series spa features a premium lighting package to set the perfect mood for relaxation. A Series spa models feature extensive full color in-spa lighting, back-lit water features, lighted cup holders, a power indicator light and exterior sconce lighting for safety.
Choose cool blues, warm yellows or any hue in between to perfect your tranquil soothing spa environment.
---
EnduraFrame™ Construction
Bullfrog Spas is the leader in 100% wood-free spa construction technology. The proprietary and patented EnduraFrame™ spa support structure means your Bullfrog Spa is engineered to last. With no wood to rot or warp and a highly engineered structure that fits together perfectly you can be assured that your spa will be dependable and long-lasting.
You get a precision engineered support structure that will last for years to come.
---
Premium Control Systems
A premium touch screen control system is available in all A Series spas. These intuitive systems make it easy to control water temperature, lighting, jets, and more.
A Series spas also feature conveniently located auxiliary controls that allow you to control your jetted massages from any place in the spa.
Your A Series spa may also be equipped with Bullfrog's exclusive CloudControl™ app control system. With this simple upgrade you can control and monitor your spa from your smartphone or app-enabled device from anywhere with a wifi or cellular signal.
---
WellSpring™ Water Care System
Bullfrog Spas' WellSpring™ Water Care System ensures your spa water is always clean and clear. Bullfrog Spas feature a large dual filter system for maximum filtration. 100% of the water passes through the filters in each filtration cycle. Additionally, to be sure all the water in a Bullfrog Spas is cleaned, circulation jets are featured behind each JetPak®. With a system that turns water at a rate as high as 10 times the industry standard you can be assured your spa water will stay clean and crystal clear without hassle.
Spend more time relaxing with an effective water care system.
Warranty
EnduraFrameTM Support Structure
Bullfrog warrants the EnduraFrame (injection- molded spa frame) against degradation for the life of the original retail purchaser of the spa.*
Shell Structure
Bullfrog warrants the Bullfrog Spa shell not to leak for ten years from the original spa purchase date.*
Shell Surface
Bullfrog warrants the surface finish of the Bullfrog Spa not to crack, wrinkle, blister, peel or delaminate for seven years from the original spa purchase date.*
Equipment
Electrical and mechanical equipment with its associated piping and fittings warranted against defects in materials and workmanship for five years from purchase date.*
EternaWood™ Cabinet
EternaWood™ Cabinet sections (corners, doors, side panels) & EnduraBase™ are warranted against degredation and cracking for five years from purchase date.*
JetPak Therapy System™
Warranty covers the jets, any leaks from JetPak jet fittings, and all JetPak plumbing. JetPak plumbing System warranted for five years from purchase date.*
Lighting
Bullfrog warrants the Interior and Exterior Spa Lighting System against defects in materials and workmanship for one year from the original spa purchase date.*
Audio System
Bullfrog warrants the Bullfrog Elite Audio and Life Audio Systems against defects in materials and workmanship for one year from the original spa purchase date.*
Ozone System
Bullfrog warrants the ozone system against defects in materials and workmanship for one year from the original spa purchase date.*